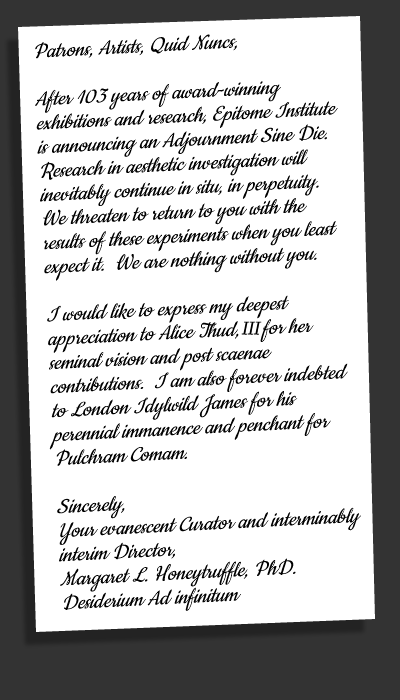 Epitome Institute is an atelier, research institute, think tank and cultural repository dedicated to aesthetic investigation. A history of mounting award-winning exhibitions, lectures and presentations has brought it to the fore amongst a handful of ambitious organizations.
Margaret L. Honeytruffle, C.C., Curator
Honeytruffle's tenure with the Institute is an ignis fatuus of academic rigor. Her curatorial experiments have become synonymous with Epitome. In her spare time she dabbles in mycology.
London Idyllwild James, C.C., Curator Evanescentium 2014
Scholar of Pareidolia Agoraphonia. James continues his explorations of Evolutionary Psychology, pursued exclusively in collaboration with the Epitome Institute. His Computational Theory of Time has been celebrated throughout the Reductionist community. His contribution to the Epitome Institute will encompass a phrenologically modular format intended to unite disambiguation of imagery and extol the sublime.
Institute News
Alice Thud, III , C.C., Curator has ended her illustrious tenure with the Institute. Thud,III led a highly acclaimed team that brought many curatorial and scholarly accolades to the Institute. Thud's grandmother led the groundbreaking "Study of 1913," formally titled The Nature of The Sublime, the results of which became the raison d'être of Epitome Institute.
Copyright Notice: All images are copyrighted by their respective owners and may not be reproduced without permission.
Disclaimer: Epitome Institute website is an artwork.



Building photo by Mariionlad, available under a Creative Commons license. Derivative works licensed under same license.